Adorn yourself with Autumn's Elegance
As the leaves turn to vibrant hues and the air grows crisp, it's time to infuse your jewelry collection with the enchanting beauty of fall. Our Fall Jewelry Style Guide is your compass to navigating the latest trends, essential pieces, and stunning ensembles that capture the essence of the season. Whether you're drawn to warm metals, earthy gemstones, or nature-inspired motifs, this guide will help you curate a jewelry selection that perfectly complements the magic of autumn.
serpent collection
This unique collection is a stunning embodiment of feminine strength, rebirth, and the embracing of change. Inspired by the graceful serpents' ability to shed their skin and emerge anew, each piece in this collection reflects the transformative essence of the fall season.
Crafted with meticulous attention, the serpent's sinuous form is a testament to the duality of the feminine spirit – its gentle nurturing and its potent power. Much like the fall season, which ushers in change with its vibrant transformations, the Serpent Collection embraces the beauty of transition. With moonstone, moss aquamarine and pink tourmaline gemstones, symbolizing inner wisdom and the cycles of life, each piece captures the essence of embracing one's feminine intuition.
shop now
Pyrite Luminance Collection
From delicate earrings that sway like falling leaves to necklaces that illuminate your neckline, each piece in this collection tells a story of elegance and mystique. Mixed metals and pyrite's enchanting glimmer blend seamlessly, reflecting the spirit of the season. 
Step into fall with a touch of luminous charm. Whether you're strolling through golden landscapes or dressing for cozy gatherings, the Pyrite Luminance Collection promises to be the perfect companion, capturing the allure of fall's magic in every piece. 
shop now
autumn aurora collection
The Autumn Aurora Collection captures the essence of autumn's splendor through a harmonious blend of textures and gemstones. Each piece is meticulously handcrafted with unique components that mirror the delicate patterns found in nature.
The warm embrace of smoky topaz, the fiery brilliance of rhodolite garnet, and the serene charm of blue topaz gemstones come together to create a symphony of colors that reflect the palette of fall. From the rustling leaves to the vibrant sunsets, every element of this collection echoes the magic of autumn's touch.  
shop now
Explore the Collections
serpent collection

Pyrite Luminance

Autumn Aurora
STYLE TIPS
When it comes to styling handmade jewelry for the fall, there are several tips you can keep in mind to enhance your overall look. Here are some fall style tips for handmade jewelry:
embrace warmer tones
Transition your jewelry collection to warmer tones like golds, browns, and deep reds. These hues resonate with the cozy atmosphere of fall and complement the earthy color palette of the season.
Make a statement
Fall is the perfect time to embrace bold statement jewelry. Opt for oversized hoops, chandelier earrings, or geometric designs. These pieces can add drama and personality to even the simplest of outfits. Choose jewel tones or earthy hues to complement the season's palette.
Minimalist elegance
If you prefer a more understated look, opt for minimalist jewelry with clean lines and simple shapes. These pieces can add sophistication and refinement to your fall ensemble.
gemstones that mirror fall's palette
Fall's gemstone palette is rich and vibrant, mirroring the colors of changing leaves. Dive into the world of garnets, smoky topaz, and pyrite stones to discover how these gems can enhance your fall style with their warm and captivating tones.
versatility for every occasion
Our fall collection is designed to effortlessly transition from day to night. Choose versatile pieces that enhance both casual and formal looks, allowing you to express your style no matter the occasion. From the office to an evening event, jewelry is a reflection of your personality and elegance.
Mix textures
Experiment with mixed textures to add visual interest to your jewelry ensemble. Combine metals, gemstones, and asymmetric designs to create a multi-dimensional and captivating look.
Nature inspired motifs
Opt for jewelry that features nature-inspired motifs. These elements resonate with the organic beauty of fall and add an earthy touch to your style, connecting you with the season's spirit.
Remember, the most important tip is to have fun and embrace your personal style. Handmade jewelry allows you to express your creativity and uniqueness, so feel free to experiment and create your own summer jewelry combinations.
designer favorites
Laura and Melissa's favorite pieces for the season
Laura's Favorite
Serpent Chandelier Earrings
WHY SHE LOVES IT:
"I love the color combination of gemstones in these earrings and how whimsical they are. I also love the way they flow with smooth edges like water. They make such a bold statement while still being light, airy, and feminine."
Melissa's Favorite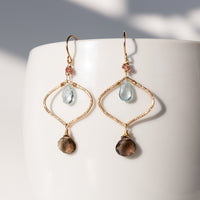 WHY SHE LOVES IT:
"I love the unique shape and texture of the gold in these earrings. They have a fun, bohemian feel while still being classy, making them perfect for casual settings or a night out. The blend of autumn colored gemstones makes them the perfect accessory for Fall."